Return Policy
Returned Covers or Accessories accepted within 30 days of purchase and are subject to 15% restocking fee. Please call Danuu Customer Service before returning any item. Purchaser pays return shipping. 877-326-8863 9am-5pm PST
Orders placed by 12:00 noon PDT will be shipped the same day!
If purchasing 3 or more covers, contact us for discounts on volume shipping.
Continental U.S. Shipping Costs
| | |
| --- | --- |
| ORDER PRICE | SHIPPING COST |
| $0 - $50.00 | $5.00 |
| $50.00 - $100.00 | $8.00 |
| $100.00 - $150.00 | $11.00 |
| $150.00 - $200.00 | $12.00 |
| $200.00 - $250.00 | $13.00 |
| $250.00 + | $15.00 |
Alaska and Hawaii:
Please email us for shipping costs
International Shipping:
Additional shipping fees for overseas.
Please allow 6-10 days additional to shipping times for customs passage.
Please email us for details and additional fees that apply.
Warranty Policy:
One-year warranty on manufacturing defects.
Storing your Cover back into the FlagBag
To store your cover back into the attached FlagBag simply...
Lay the cover on a flat surface.

Stretch it out to its full length.

Lay the side panels on top of each other and tuck the top panel in between each side by folding down the center.

The cover should now be laid out so it is approximately the width of the FlagBag.

If not, fold any excess width towards the center.

Now go to the nose (the end of the bag opposite of the Flagbag) and fold the nose back to the opening of the FlagBag, Essentially, you are folding the cover in half.

Continue to fold the cover in halves until it is slightly larger than the FlagBag.

Fold the edges towards the center as best you can then begin to roll it into the bag. See the images below for these final steps...
Once the cover has been laid out & folded up, The key is to fold the edges inward. Tuck the cover by rolling it towards the bag.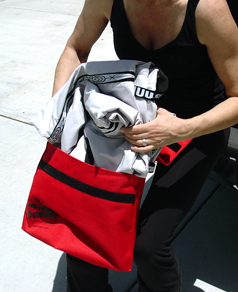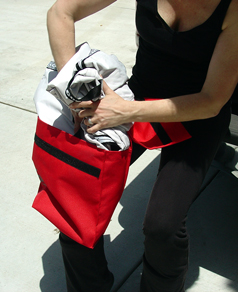 Keep rolling... And tucking... And Viola! It's in!